With plastic bags now costing you at least 5p each, many shops have decided to opt for the alternative and go down the bespoke paper bag route.
Paper bags aren't as easy to take back to a shop and reuse, never mind the fact that they are useless in the rain! So what do you do with all these paper bags filling up your "bag cupboard"?!
Click on the picture to see some really nifty ideas of how to make those bespoke paper bags into something brilliant!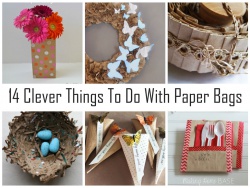 If you have made any fantastic creations with your bags, or would like to give one of these ideas a go, we would love to see your pictures of what you have created!
This post was written by Louise @ Burgass
Categorised in: News