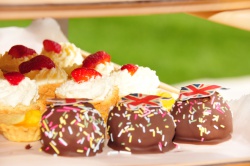 We have been delighted with the popularity of our fabulous little Union Jack bags.
They have been flying out of the factory in record numbers these past few weeks.
Across the country, communities are enjoying the perfect excuse to enjoy a street party in celebration of the Queen's 90th birthday. Union Jack bunting, flags, red, white and blue decorations, tea and cakes are of course key ingredients to this wonderfully British affair.
For all those that bought our Union Jack bags, we'd love to see some pictures of your street party and our bags in action!
If you'd like to order these bags for any occasion, they are still available, feel free to contact us about them.
Here's our local primary school children, making a dash for it when the heavens opened.

This post was written by UK Carrier Paper Bag Maker
Categorised in: News